Thematic workshop on Work-based Learning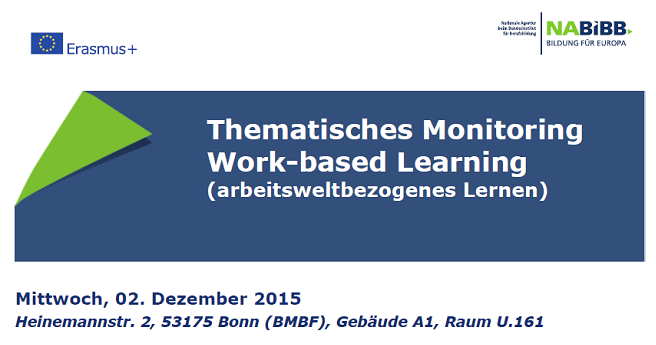 The German National Agency arranges a thematic workshop on Work-based Learning on Dec 2, 2015 in Bonn. The workshop is to bring Erasmus+ projects together working on the same field of work-based learning and training. Besides networking and the exchange of project ideas and results there will be presented in detail new European initiatives such as "NetWBL – Thematic Network Work-based learning and Apprenticeships" and "EAfA – European Alliance for Apprenticeships". The workshop will held in German language.
Excerpt from the invitation letter:
"hiermit laden wir Sie herzlich zu unserer Veranstaltung "Work-based Learning (arbeitsweltbezogenes Lernen)" am
2. Dezember 2015 in Bonn ein.
Die Veranstaltung ist ein thematisches Monitoring, das die NA beim BIBB mit relevanten Projekten aus dem Programm Erasmus+ aus allen Bildungsbereichen durchführt. Hintergrund ist die steigende politische Relevanz des Themas im europäischen und nationalen Kontext.
Ziel des thematischen Monitorings ist es, Ihnen als Projektvertretern und Projektvertreterinnen, die sich im Rahmen Ihrer geförderten Projekte mit dem Thema oder Teilaspekten des Work-based Learning auseinandersetzen und ggf. erste Ergebnisse in diesem Bereich erarbeitet haben, ein Forum zum gegenseitigen Austausch über Methoden, Ansätze und Produkte zu bieten. Damit sollen Projektergebnisse verbreitet und die Wirkung der Projekte und der Programme generell sichtbar gemacht werden.
Der Vormittag wird ganz den Projektvorstellungen gewidmet sein. Am Nachmittag werden in zwei Kleingruppen anhand von Leitfragen konkrete Verbreitungsstrategien erarbeitet. In diesem Rahmen bietet sich außerdem die Möglichkeit, Chancen und Perspektiven in verschiedenen Bildungsbereichen und auch Bedarfe zu identifizieren und zu diskutieren. Damit möchte die NA beim BIBB auch einen Beitrag zur langfristigen und nachhaltigen Wirkung der europäisch geförderten Projekte leisten.
Wir würden uns sehr freuen, Sie am 2. Dezember 2015 in Bonn begrüßen zu dürfen.