Entering the labour market successfully when their schooling is finished is a challenge to young people all over Europe, especially if they are considered disadvantaged. The problem is not only visible in the economically weaker countries in Southern and Eastern Europe, but also evident in the stronger countries. The barriers that disadvantaged young people face are generally the lack of a proper school degree or educational qualifications, often times accompanied by a difficult family situation and the like. On top of this, young migrants often deal with insufficient language skills that are imperative for passing a vocational training program and for finding a job successfully.
To address this problem, many countries in Europe introduced 'work-oriented learning' or rather 'work-based training' (WBT) methods in the VET system to create a better link between theory-based learning and practical training.
This project exams the situation of disadvantaged young people in the context of the various national school-to-work transition systems and the specific work-based training  approach they are facing. It is designed as a project with the clear focus on the exchange of experience and expertise in pursuing a concrete, practical work plan and in resulting in clear outcomes such as a Manual of good practices as a handbook of practitioners for practitioners.
---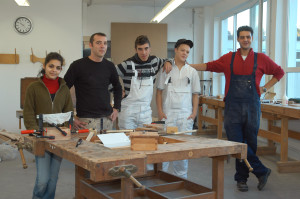 The general aim of the WBT project is to create sustainable learning success and to secure the smooth transition from school to work for young students with learning difficulties and thus the successful integration of the target group into the labour market. The main strategy to achieve this aim is to foster the exchange of good practices and experiences on Work-based Training developed in the countries where the project partners are based. In this way, the partner organizations will contribute in laying the foundations for the creation of a European Area of skills and Qualifications. Moreover, the elaboration of the Manual of Good Practices will be an important tool to strengthen education and training paths of educators and trainers working in the youth field in public or private bodies which will be reached during the project lifespan.
Finally, it's important to remark that the core activity of the project is an online survey addressed to 3 different target groups, among them the project beneficiaries, disadvantaged young people, will give an important contribution on the identification of the desirable solution for the reduction of disparities in learning outcomes which prevent this frail category from undertaking a successful transition into to the job market.